Training participants use the RTK during the hands-on activity. (Photo by JQdeRoxas and JASarmiento)
On 18 October 2022, 22 analysts from LGUs and DA offices of Region II underwent an upskilling on the use of the rapid test kit (RTK) for pesticide residues organized by the RTK project team and the Public Service Division of the National Crop Protection Center (NCPC).
The activity sought to enhance and refine the skills of the analysts and provide necessary updates about RTK, a technology used to detect residues of organophosphates and carbamates in selected vegetables. It also aimed to give a review of food safety and pesticide chemistry and management to contextualize the technology.
Participants came from the DA Regional Field Office no. 2, and from the LGUs of Santiago City, Roxas, Bambang, and Dupax del Norte. They utilize the RTK to monitor incoming crop commodities, especially vegetables, in their local markets and to promote food safety and proper pesticide management.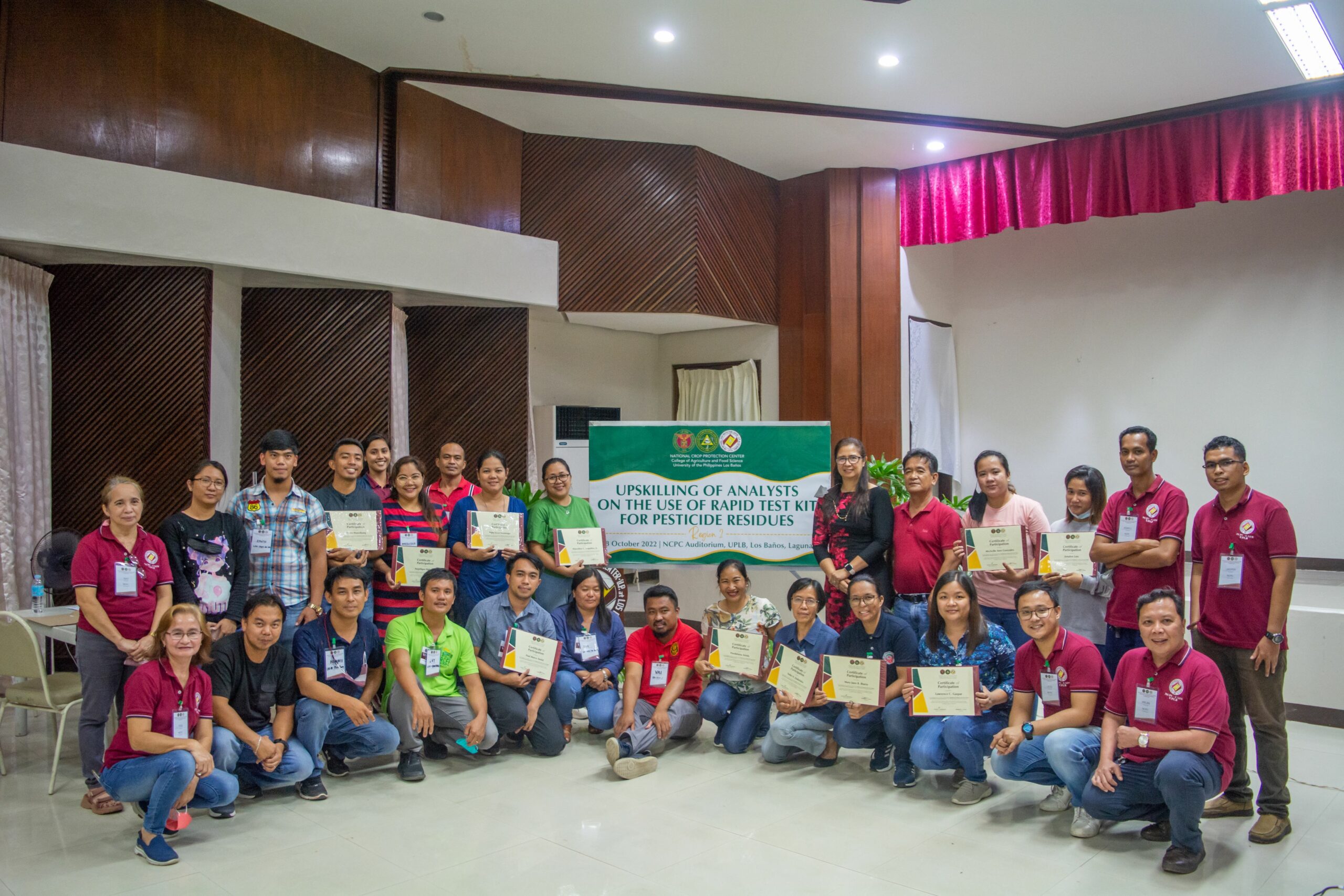 Participants pose for a post-training photo with the training team and Dr. Barbara L. Caoili, NCPC Director. (Photo by PMdeChavez and JASarmiento)
The training was divided into two parts: lectures at the NCPC Auditorium and hands-on activity at the Pesticide Toxicology and Chemistry Laboratory and Weed Science Laboratory.
NCPC researchers served as resource speakers for the training. Mr. Jasper A. Sarmiento talked about the Rapid Test Kit for Pesticide Residues and Pesticide Chemistry 101, Mr. Arlan L. Adorada discussed the Common Mistakes in RTK Analysis, and Mr. John Julius P. Manuben gave an Introduction to Chemical Food Safety and Maximum Residue Limits.
During the hands-on activity, the participants observed a demonstration on the use of RTK. They were then tasked to detect pesticide residues in vegetables using the technology.