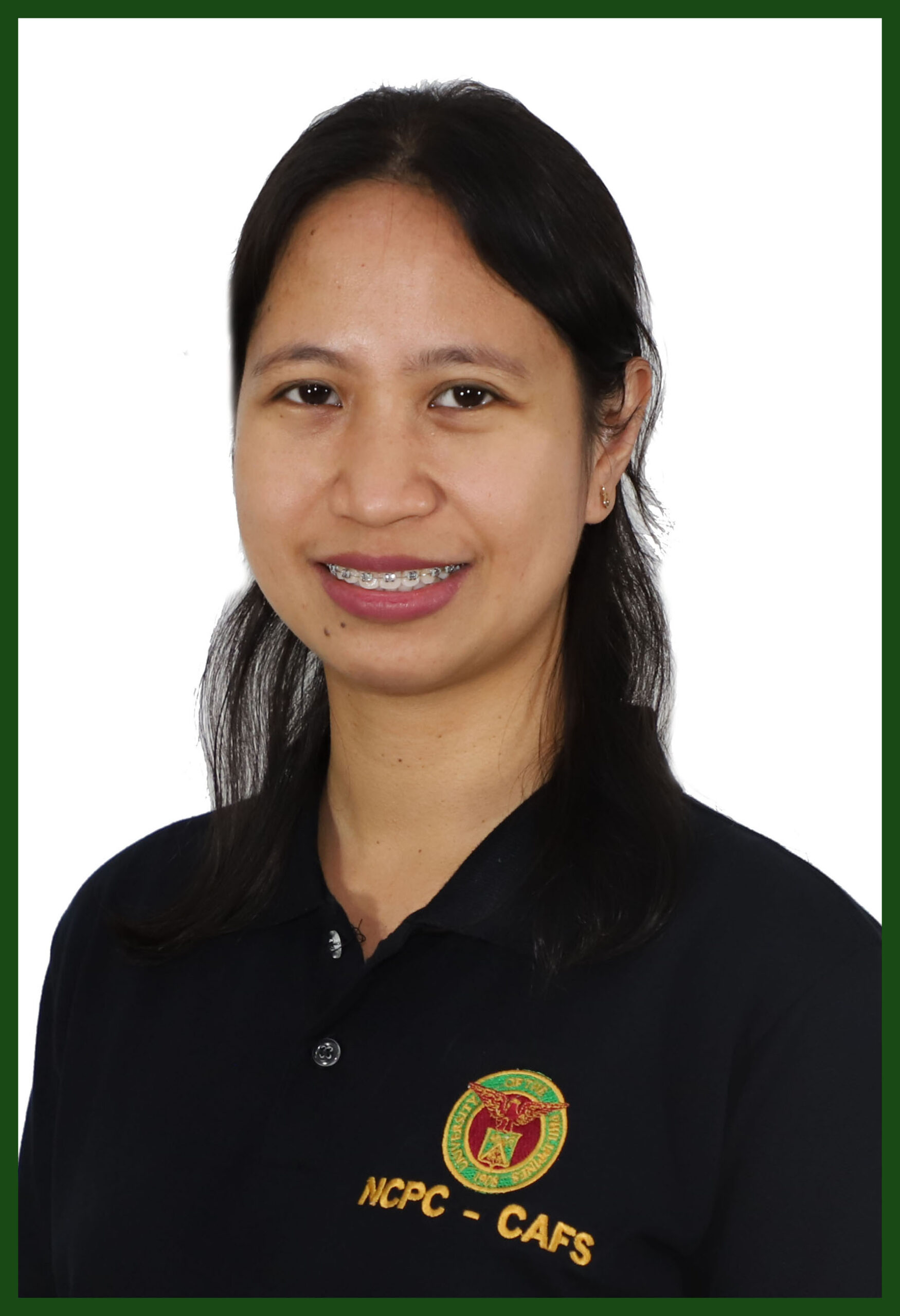 Melissa P. Montecalvo
Scientist I/University Researcher III
Education
MS Plant Pathology, University of the Philippines Los Baños
Specialization/Research Interests
Mycology, Postharvest Pathology, Disease Management
Biography
Melissa P. Montecalvo obtained her BS in Agriculture (Major in Plant Pathology) and MS in Plant Pathology Minor in Horticulture both at UPLB in 2008 and 2012, respectively. While taking her graduate studies, she worked as a University Research Associate II from October 2008 to December 2012 under the ACIAR-PCAARRD Project at UPLB. After graduation, she joined the Philippine Council for Agriculture, Aquatic and Natural Resources Research and Development (PCAARRD), an agency under the Department of Science and Technology (DOST) as Science Research Specialist II from March 2013 to May 2015.
She has extensive research and extension experience on diseases and production of mango. Her completed researches focused on mango disease management, use of botanicals for disease management, and monitoring plant disease in relation to climate change. She currently conducts research on mango stem end rot detection and management, extent of incidence sugarcane leaf scald and varietal reaction of sugarcane varieties, use of NPV and fungal isolates against onion armyworm, utilization of irradiated carrageenan for rice, quick response for pest outbreak, mechanical transmission of garlic viruses, and use of indigenous plants for disease management. Likewise, she is actively involved in disease diagnosis as part of the NCPC Plant Health Clinic.
She holds the license of Agriculturist, accredited researcher of FPA and BAFS. She is an affiliate of local and international societies such as UP REPSS, Philippine Fruit Association, Philippine Phytopathological Society, Phi Sigma Biological Sciences Honor Society, Mycological Society of the Philippines, and Gamma Sigma Delta International Honor Society of Agriculture. She is a recipient of numerous awards and scholarships such as 2018 NCPC Outstanding Young Researcher, Academic Excellence and Best Paper Award. She attended and served as resource person in various local seminars, workshops and trainings particularly on diseases of mango and its management. She has also presented oral and poster papers in local and international conferences and published IEC materials, farm news, and journal articles.